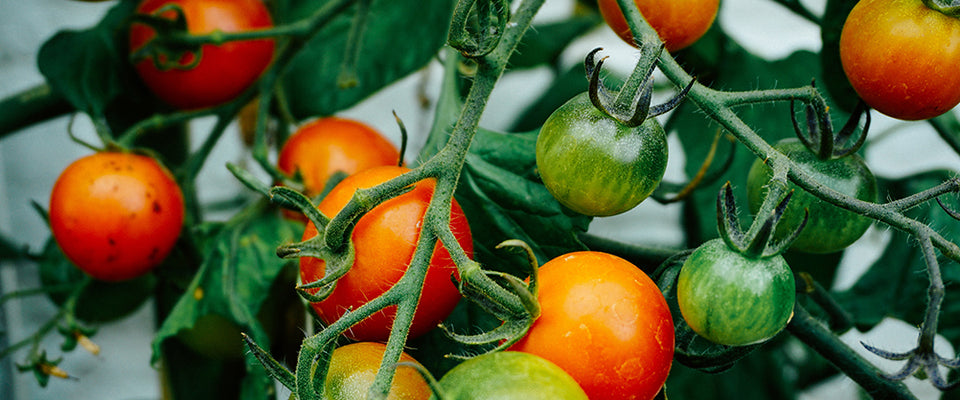 You Will Eat Fresh, In-Season Vegetables
By maintaining your garden and growing your own vegetables, you will learn to eat in-season, when the flavours are at their best! Because they are freshly harvested, the natural flavours of vegetables are vibrant and do not need extra oils, salt or other additives for them to taste good, unlike those you buy at the grocery store. And what about the nutrients! Most of the vegetables that fill the food aisle are picked early, shipped to warehouses, distributed to stores and remain in storage or on the shelf for a certain period of time until you buy them. Over time, the nutritional value of the vegetables decreases. Fresh vegetables not only taste better, but they also have a higher nutritional value.
Goodbye, Chemical Pesticides!
You control the growing environment of your garden. You don't need chemicals or pesticides. In fact, every year, the Environmental Working Group (a group of American activists specializing in research and advocacy in the areas of agricultural subsidies, toxic chemicals, drinking water pollutants and corporate responsibility) publishes its "Dirty Dozen" list. This list includes the twelve products tested by the U.S. Department of Agriculture with the highest pesticide loads. Among the vegetables on the list are celery, spinach, potatoes, peppers and tomatoes. Surprisingly, these five vegetables are among the easiest to grow in your own garden without having to use pesticides. If you want to get rid of possible insects, you can use natural products commonly found in your home.
The Environment Will Thank You
Gardening helps minimize negative impacts on the environment by promoting sustainable agriculture, reducing food transportation costs and the carbon footprint associated with wholesale production in greenhouses and factories, reducing water runoff and growing organic food without pesticides or chemicals. Opting for gardening also has a direct positive impact on reducing the size of landfills, which are used to dispose of waste and garbage from your home. According to experts, 30% of these landfills are filled with yard waste and food scraps. Over the long term, these materials pile up and take up a lot of space in these landfills, creating methane gas, which is very harmful to the environment (Perfect for Home, 2021). Growing your own vegetables also reduces the use of plastic packaging.
Beneficial for Mental Health
Planting a seed, watching it sprout and grow to produce food is one of the most rewarding feelings and provides a sense of accomplishment. The close combination of this simple effort and the direct reward associated with it is rewarding and gratifying. Also, studies show that time spent gardening in nature is associated with reduced anxiety, depression and many other positive effects.
Great Physical Activity!
During the growing season, gardening allows you to spend time outdoors regularly. Gardening involves many movements that require strength and flexibility. Digging, planting, weeding and other repetitive tasks make excellent low-impact exercises. Did you know that 45 minutes of gardening burns as many calories as running 1.5 km for 15 minutes?
Gardening, for the Whole Family!
Gardening is a fun activity for young and old alike. With both hands in the dirt and soil, we become real creators who are committed to and close to nature. Gardening can be a fascinating activity for a child or toddler: it develops little by little his curiosity, his scientific knowledge, his creativity and his love for nature. It leads the child to observe nature and to ask himself questions such as "Why do we water the soil? "When will tomatoes grow?" Watering and harvesting his garden also helps him understand where the food he eats comes from. Your young gardener can also do many tasks in the garden that help develop motor skills. Like planting seeds, digging holes, or pulling up weeds (Birth and Growth 2018).
You'll Save Money at the Grocery Store
Gardening really isn't expensive when you think of all the food that can be produced out of it. Even if you grow a small garden, you will save money. A single package of organic green salad at the grocery store (for example, at IGA) costs an average of $5. If you grow your own garden and plant a pack of good quality organic seeds, it costs half that price and produces salad over a long period of time, which can yield about 3 kg of salad.
No more Food Waste!
Annually, the loss of food per person in Quebec is equivalent to 183 kg, which corresponds to $20 per household per week that ends up in the garbage (MAPAQ, 2020). But when we become aware of the work that needs to be done to harvest vegetables, we tend to waste them less! And how can we make the investment in our vegetable garden even more profitable? With a little natural fertilizer made from your own compost, what would normally be thrown in the garbage becomes an important part of the growth cycle of your vegetables: that's what we call "Countering Waste 2.0″!
Discover New Recipes
Arroche, Spanish bean, bulb fennel, bok choy... Less well-known vegetables but all of them can be planted in North America. But how to cook arroche? Ah, a new discovery! Seasonal consumption allows you to get out of your routine by finding new foods and trying them in new recipes!
The Garden, Where Creativity Takes All Its Meaning
When harvesting large quantities, we tend to eat more vegetables and think of new and creative ways to prepare them so that nothing is wasted. Let yourself be seduced by radish chips, bok choy kimchi, parsnip gratin... You don't necessarily have to follow a particular recipe... Create one instead! Enjoy!
Now are you ready to select your Garden Box? Select from our premium planter box with ou without cedar.