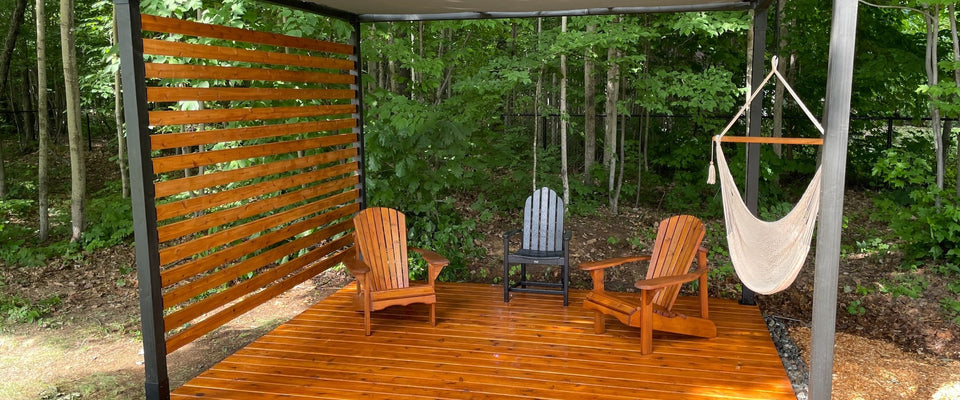 With a strong preference for high quality materials, Korto has chosen to use Eastern White Cedar from the Lower St. Lawrence for its planter kits, if purchased with the wood included. For its Pergola kits, Korto uses Western Canadian red cedar. Both types of cedar are top of the line and the quality is exceptional. 
Being impregnated with its own natural oils, cedar is one of the few types of wood with natural preservative properties, which makes it remarkably resistant. This natural oil has the ability to age well over time and to repel insects that like to make their homes in the moist and humid parts of wood.
Our cedar is also kiln-dried, which removes excess moisture from the wood. The moisture level of the wood is drastically reduced, allowing the wood to work less, meaning it will be less likely to warp over time.
There is no need to stain or treat cedar since this type of wood is much less likely to rot or decay than other types of wood. However, since wood is a product of nature, changes in temperature such as rain and sun could affect the condition of the planks over time. 
Korto has therefore found it useful to present you some tips and advice on how to maintain and stain your outdoor cedar structures. 
First and foremost, please note that we are not specialists in staining or maintenance products for cedar. According to our suppliers, such as Langevin Forest, it is not essential to stain this type of wood, but it could lose its initial shine over time. Indeed, from an aesthetic point of view, the product will become greyer with the sun rays. The way to delay graying is to choose a protector with a tint within the solution. The more pigmented the color is, the better the protection and appearance. 
The first step in maintaining or staining cedar is to wash it thoroughly to remove any residue or dust. We recommend using a biodegradable wood cleaner such as Sansin Multi-Wash.  Rinse with clean water and allow the surface to dry for a minimum of 24 hours before applying any stain or treatment. Sansin Multi-Wash removes dirt, mold, fungus, water spots and rust. 
If a stain was previously applied and you would like to remove it before applying another stain to avoid mixing pigmentations, you can use a stripping product such as Sansin Paint & stain remover. 
After cleaning the cedar or removing a previous stain, you can move on to the next step: sanding. This step is critical as it allows the stain to fully adhere to the wood. Sand the surface with 80 grit sandpaper using an orbital sander in the direction of the wood grain. 
After sanding, there may be some wood dust on your structure. Simply dust the surface. The surface must be clean and free of dust, dirt, oil, wax or old coatings before proceeding with the application of a first coat of treatment or stain. 
Then, as explained earlier, cedar could lose its luster due to the sun's rays, which makes it a photosensitive wood that could darken with time. This is because UV rays cause the wood's lignin to burn. The best technique to avoid graying is to use a tinted protector (which is not colorless). We recommend a protective and restorative oil. Cutek oils come in a choice of ten different stains designed to bring out the beauty and natural character of the wood without clogging the grain. Stains such as Autumntone, Rustic Gold, Sela Brown or Walnut have a good balance of pigments and make outdoor cedar look fabulous. Sansin products, available in a variety of color shades and saturations, are also excellent for staining wood. 
Before application, be sure to stir the product well with a stirring stick. Apply the first coat generously in the direction of the wood grain with a stain brush about four inches long. 
When applying the stain or treatment, make sure there are no drips or puddles, otherwise, sponge them off and smooth them with a brush. 
You must then wait 24 hours so that the first coat adheres well to the wood grain. Since the wood is already saturated with product, you will not need as much stain or treatment for the second coat as for the first. Allow 48 hours of drying time after applying the second coat before using your structure. 
To maintain your cedar with a no-stain or pigmentation wood treatment, you can use a non-toxic product that is specifically designed for cedar. Products like LifeTime, Sansin and Sikkens enhance the natural color of the wood to preserve and enhance its natural color. For example, Sikkens products provide excellent UV protection and allow the wood to remain bright. 
For further information on the care and staining of cedar, we recommend that you speak with your wood merchant or paint specialist.